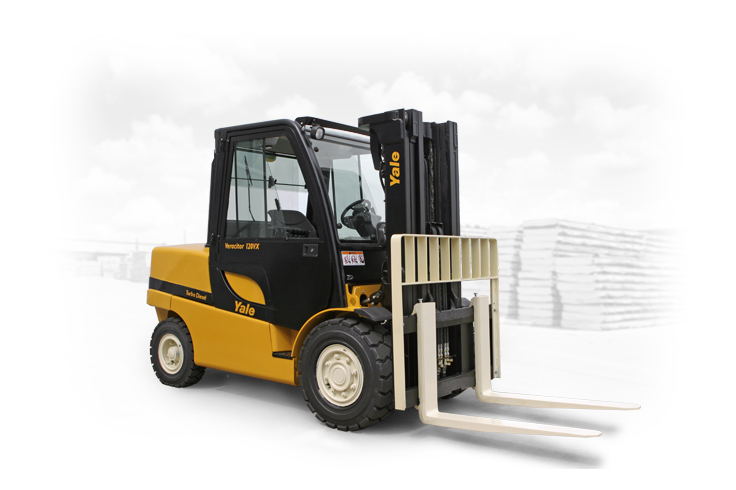 Customizable for the application
Ergonomic features
Reduced cost of operation
Ergonomic features
Models: GP080-120VX
Capacity: 8000-12000lbs
Load Weight: 12000lbs
Max Lift Height: 218
Environment: Outdoors
Power: LPG, Diesel
Primary Task: Lifting and Stacking, Towing
Auto Manufacturing
Chemicals & Plastics
Building Materials
Metals
Paper & Packaging
Wood
Details
Increased uptime with unmatched productivity
The Veracitor® GP-VX series can be configured as a high-performance solution with low cost of operation for medium- to heavy-duty indoor and outdoor applications, ranging from 8,000-12,000-lb capacities.
Equipment Type

Internal Combustion Pneumatic Tire Forklift Trucks
Each truck in the Veracitor® VX series is customizable with packages for specific needs, ranging from medium- to heavy-duty applications.
Engine options:
PSI 4.3L V-6
Kubota 3.8L LPG
Kubota 3.8L Dual Fuel
Kubota 3.8L Turbo Diesel
All engines feature Yale® Flex Performance Technology™, which allows operators to boost fuel economy or turn up performance to maximize productivity during peaks
Transmission options:
Electronic Powershift - smooth electronic inching, electronic shift control and heavy duty clutch packs
Techtronix 100 (optional) - all features of the standard transmission, plus controlled power reverse, controlled rollback and Auto Deceleration System to help extend tire and brake life up to 50%
The GP-VX series is packed with operator-friendly features to help stave off fatigue and keep productivity and focus high, all shift long.
Hi-Vis™ mast and overheard guard design offer clear operator visibility
Low step height, increased shoulder clearance and easy right-side access for simple entry and exit
Isolated powertrain reduces noise and vibration
Continuous Stability System (CSS) reduces truck lean in turns for improved lateral stability and uses an innovative steer axle mounting design for superior travel over uneven surfaces
The purchase price of a truck is only a small part of its overall cost. A lift truck's cost of ownership is the largest portion of dollars spent and includes such elements as periodic maintenance, unscheduled repairs, tires, brakes and fuel costs. That's why Yale engineers made the GP-VX series with world-class serviceability and unparalleled dependability.
Floor plate requires no tools to remove and offers complete access to the powertrain
Innovative cooling system enables lower operating temperatures with excellent airflow through optimized ducting and high-volume tunnels
Reliable electronics, including sealed connectors, enable entire truck to be pressure washed
Auto Deceleration System (standard on the Techtronix 100 transmission) reduces brake usage and associated wear and maintenance
Intellix VSM vehicle systems manager (optional) continuously monitors truck functions and immediately alerts operators of service needs
The Veracitor series offers a variety of attachment packages to provide the right tool to drive lasting productivity in your operation.
Rotator attachment — secure, 360- and 180-degree rotation of food ingredients, liquid metal, chemicals, waste and scrap
Paper clamp attachment — fast, accurate 180-degree rotation with adjustable clamping pressure for paper roll handling
Bale clamp attachment — wide selection of opening ranges and arm dimensions for efficient transportation of pulp, waste and recycled paper, aluminum and clothing bales
---